We design and build premium quality modular houses, saunas, cabins all across the Europe.
In NANO Project we can build custom designs to match your requirements and dreams!
Who we are and what do we do?
We build small modular houses…
In NANO Project we are dedicated to deliver premium quality, custom built modular units, saunas, cabins, houses and more. We have worked out standard models, sizes and finishes but customer can always have his say and fully customize the moduls to live up to their wishes and standards. There really isn't any set limits.
We use only the best quality materials and workmanship available and only few builders can warrant their work and materials with up to 7 year warranty. 
Linear meters of timber average per project
Screws & nails on average per house
Number of ways to use the house, but not limited.
Frequently Asked
questions
Can I customize my house as I like?
Yes, all projects are custom designed as per request. All finishes, floor
plans, materials etc as you like.
What are the maximum dimensions for your small house concepts?
Maximum dimensions as a one-piece house is 3400 in wide, 7500mm in lenght,
3400mm in height.
Transport and install, can you help us with that?
Yes for sure we assist our clients or organize the transport and
installation for our projects.
How long is the construction phase?
After the contract is signed it takes up to 7 weeks, depending on the
window colors mainly.
Warranty
All our work is warranted up to 7 years for workmanship and 3 years for
materials. Ask for terms and conditions.
SMALL MODULAR HOUSES
with premium quality!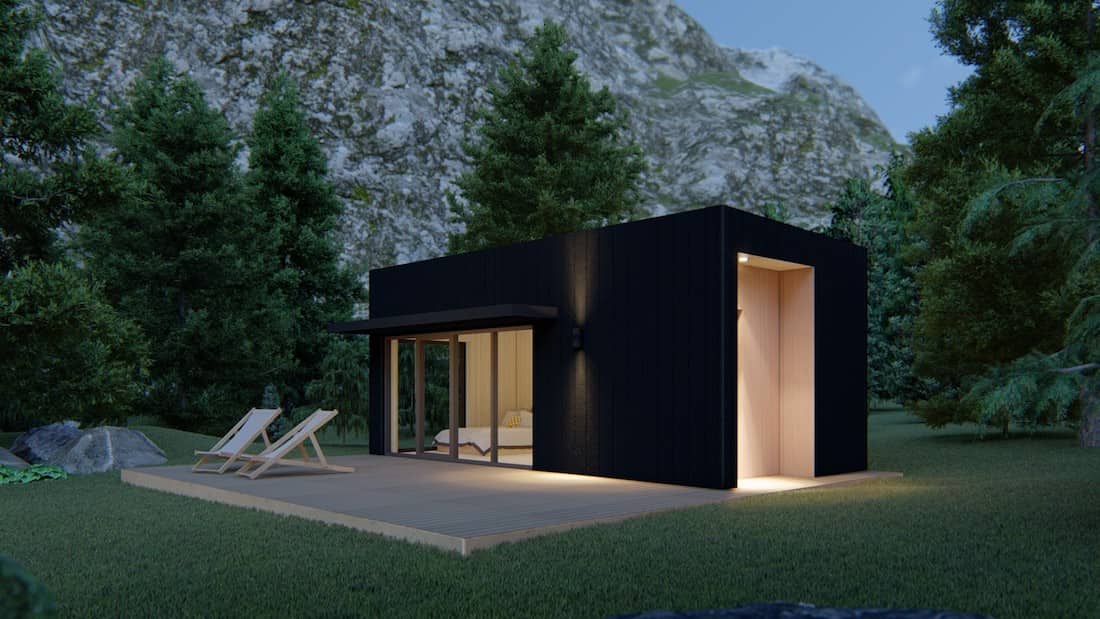 This hand made element cabin suits for all year around living even in the coldest climates. Total space of 24,82 sqm gives this little house endless uses  and can be used as a primary accommodation unit, office, studio, Air BnB rental flat and more.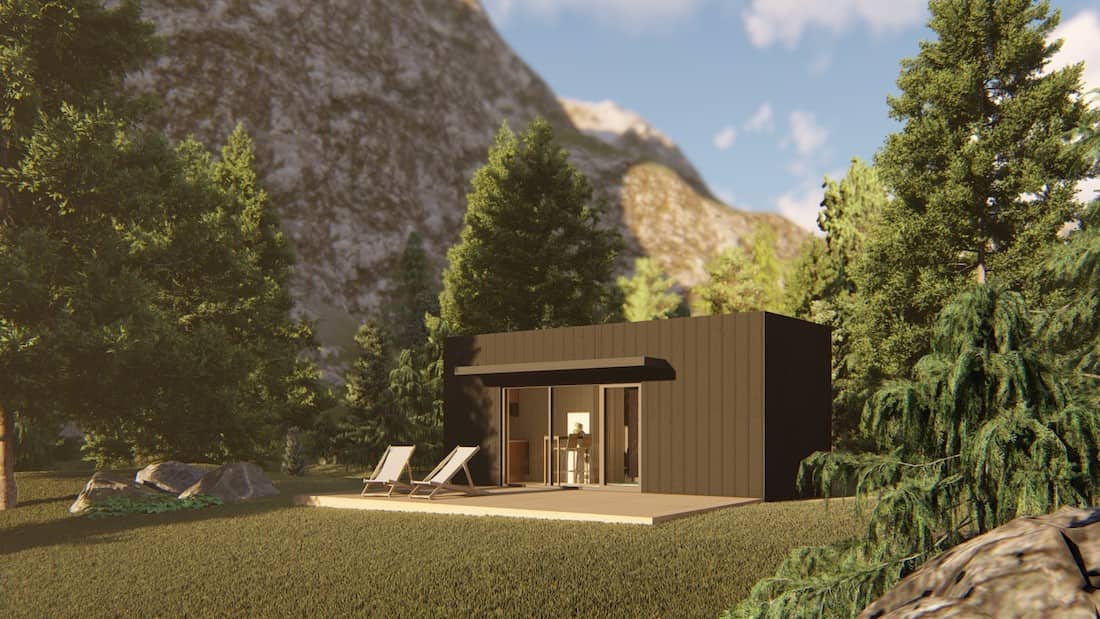 This unit NANO 3.0 is being handbuilt by our craftsman in South-Estonia. Years of experience have made this the most complete unit yet to date. It has 300mm premium rockwool insulation in floor and ceiling panels and 200mm rockwool in the wall panels. It can handle the weather with the single heating system either firewood or alternative.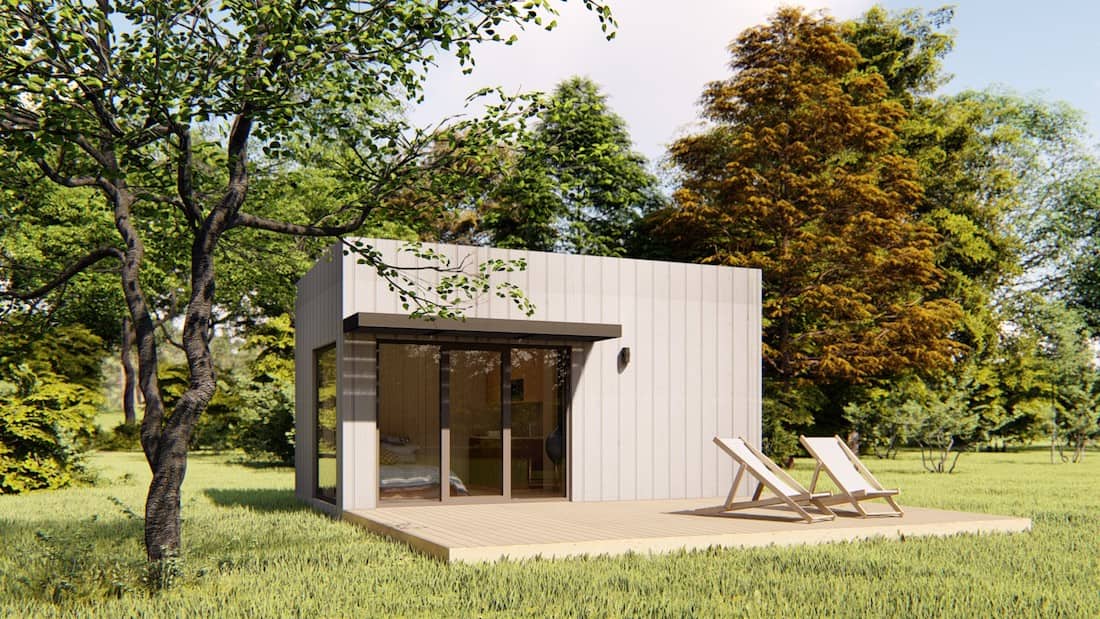 Dimensions and framework
This unit measures: 7300mm in lenght. 3400mm in width. 3300mm in height. Structure of the building is being built with calibrated 45×195 and 45x145mm spruce from the forests of South-Estonia. External walls have been isolated with weatherproofed TGOSB18 panels to give the structure a strenght.

Something you would be interested in?
Insulation
Building has been designed to stand the test of nordic winters.
Flooring structure has been insulated with the premium 150+150mm rockwool. External walls are insulated with 100+100mm rockwool. Internal walls have been insulated with 100mm rockwool. Ceiling panels are same as floor 150+150mm. Roof and floor panels have been also covered TGOSB 22mm panels. Walls are covered with 18mm TGOSB.
External finishes
By standard our units are finished with the vertical 22mm thickness weatherboard. Finished with wood oil, paint or special stains.
By alternatively this can be changed to suit your living environment and needs.
Commonly used are veneer, metal panels and shiplap shindles. Ask for a quote to suit your taste! All colors and finishes are customisable.
Roof
Roof panels are finished off with the durable 22mm thickness TGOSB board and IcoPal Tema shingles. Edges are finished with steel covers in matching colours and also includes downpipe for rainwater.
Openings
All our external windows and doors are built in Võru, Estonia by German components. By standard we use plastic products to guarantee the lifetime and durability of the product. 4-6mm standard or toughened glass depending of the purpose of the module. Main entrance door is opening outside, ASSA lock system, bathroom window is 400x700mm and can be opened for extra ventilation. Side window is 1600x2000mm window panel that can't be opened. Main window by the front of the building is 3680x2000mm in length and height. Has 3 even sections and middle section can be opened with slide function to access the additional deck. (Modular deck is available under EXTRAS). All the window sizes can be change as per request. Sliding window has sun screens built over it reaching out 800mm off the building. Comes as an free addition that will be assembled onsite in 5 minutes.
OUR HOUSE
Internal finishes
Floors
By standard our floors are covered with 32mm thickness natural spruce floor boards. Finished off with natural or stained flooring oil.
Walls
Walls are covered with natural spruce, pine or black alder wall cladding. Walls are also finished with white or natural wood oil.
Bathroom
Bathroom is fully tiled from floor to the ceiling. Ceiling is covered with wall cladding. Finished with waterproofing oils or paints. Includes quality brand toilet and sink+vanity.
Bathroom and kitchen area both have natural ventilation. Bathroom door is made of natural timber to match the interior finishes.
Kitchen
Kitchen is an optional extra and is not included in the standard kit. We work with trusted brands to offer you the best quality and functionality. Ask for a quote and design for your project!
Electrical
Electrical system has been designed to make sure you can switch light on-off from multible spots, charge your laptop and phone either from your bed or desk, outside or in the kitchen. Has spotlights outside by the entry 2x, bathroom 2x, livingarea 6x, kitchen 3x, outside on both side of the sliding door. Either way it all makes sense and is convenient.
Starting from as low as 23 000€
| | |
| --- | --- |
| Standard package for NANO 3.0 EXW in Voru, Estonia starting from | 25000.00 |
| Kitchen and quality brand appliances, oven, stove, airvent, fridge. | +quote |
| Water heater 100L | +120.00 |
| Natural parquet flooring OAK 15mm. | +1000.00 |
| Freestanding designer fireplace from 6000-8000EUR options. | +8000.00 |
| Triple layer of glass | +900.00 |
| Foundation. Ask for details as this might be an easy solution to solve. | +5000.00 |
| Triple layer 4mm glass+tampered | +1100.00 |
| Triple layer 4mm tampered glass+tinted window | +1200.00 |
| External decking moduls 330x3000x3500mm treated timber | +800.00 |
*Price does not include VAT 20%, foundation or installation. Moduls can be placed on 200x400mm levelled building blocks and installation can take as little as 2 hours.
Project drawings, installation and care instructions come with the house. All the information and materials can be changed and updated, please ask details about the materials used.